Digital marketing consulting that is engineered to boost traffic, increase leads, connect with your customers, and drive action.
LEARN MORE

Get a custom digital marketing strategy for your business that works
End your struggle to grow your website traffic with a custom digital marketing strategy from Highrise.
We'll implement a built-for-you marketing plan that targets the right audience, increases awareness, captures intent, and drives more business. With on-call consulting, transparent reporting, and a system built over 10 years of experience, Gary Magnone & his team at Highrise will help you meet your goals and take your business to the next level.
LEARN MORE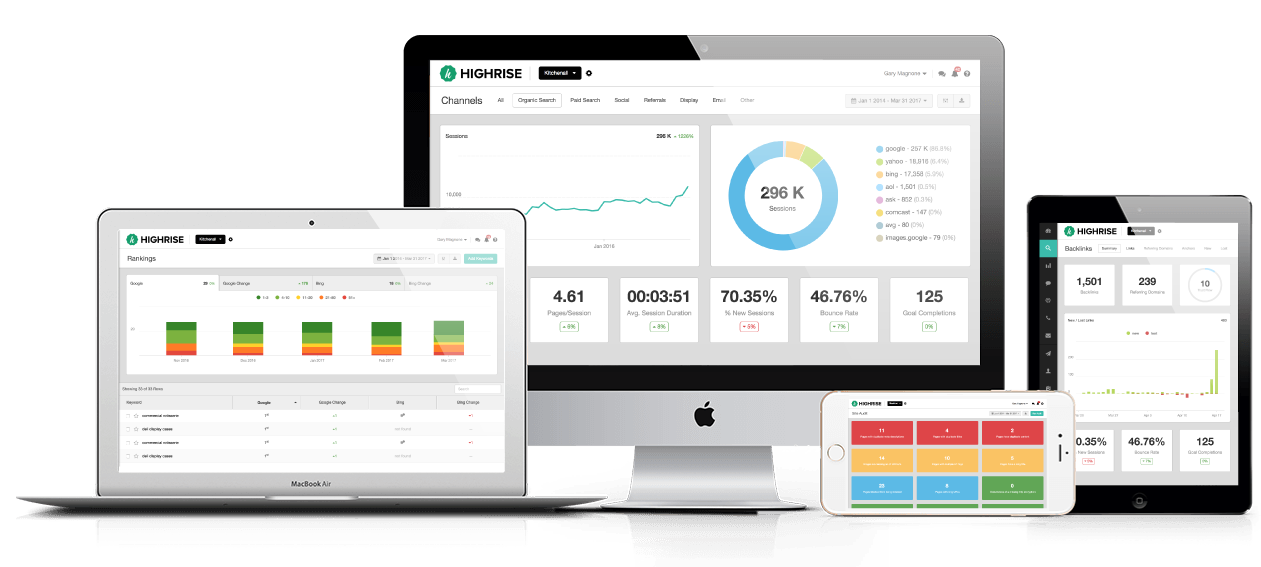 Get a custom digital marketing strategy that works
Highrise provides big brand style consulting that exceeds small brand expectations.

We deploy strategic SEO & PPC campaigns to capture the right traffic at the right moment of your buyers' journey.
From technical audits & website optimization to keyword research & link building, we'll make sure you show up when your customers need you most. We craft authentic & business-driven social media plans that integrate your brand voice within the native storytelling features of each social platform.
From listening & engagement to advertising & lead gen, we'll develop an asset that allows you to connect directly with your customers.

We produce user-focused content on behalf of your brand that helps elevate your position in the market & drive action among your target audience.
From blog posts & resource pages to ultimate guides & video, we'll cut through the noise & give your audience something to interact with. We connect your content, your products, and your stories with the websites & publications that should know about them.
From blogger relations to influencer outreach, we'll generate the inbound links, social shares, and media coverage that grow awareness & drive business results.
Get a digital presence built with a smart and effective strategy ensuring real, measurable results for your business.
Get Your Free Consultation
Here's the scoop; before working with Gary I would get occasional leads through my website. After I started working with Gary, my website traffic increased hugely, and now I get dozens of leads through my website every month. I attribute this in large part to Gary's expertise in SEO. So, from a numbers perspective, working with Gary has been a pure and simple home run. My lead generation exploded and, consequently, so did my sales.
But the benefits of working with Gary aren't limited to SEO. He's an amazing resource for discussing content marketing, overall digital marketing strategies, product positioning and social media marketing. And he is quite simply one of the most honest, trustworthy and reliable people I know. As a result, I have referred many people to him and have never had any of them come back to me with anything less than a glowing review of their experience with him.
Gary isn't just someone I recommend for SEO and digital marketing. He's the ONLY one I recommend for SEO and digital marketing. I would stake my reputation on his ability to help you, and to do so with integrity and professionalism."
Jonathan Aluzas, Arena Fitness
"Working with Gary at Highrise has been an absolute pleasure. His advice and guidance through the design process created a site that is elegant but simple and most importantly navigable for our users. Gary and his team seem to have thought of everything, from optimization of our site to its usability on a mobile platform, and helped us design our site accordingly. I cant recommend working with Highrise enough. Their responsiveness, thoroughness and creativity have all come together to create a beautiful website that we couldn't be more thrilled about."
Jake VanDaele, P Joseph Development